Dinner
A taste you will never forget…
Our hearty dinners fill even the healthiest appetite. Your dinner includes corn muffin and choice of any two dinner sides. All meals served with BBQ sauce ON THE SIDE.
Half Chicken – White Meat Only
$9.99
Quarter Chicken – White Meat Only
$7.49
Full Slab Baby Back (2 lbs.)
$19.29
Half Pound of Chopped Pork or Beef Brisket
$8.99
Mississippi Catfish with Hush puppies
$10.59
Sides - Regular / Pint (serves 2-3)
Additional Sides
Corn Muffin or Hamburger Bun
$.35
Hush puppies (Minimum of 4)
$.25
Meat Only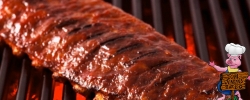 You got the sides… we got the rest
Our "Meat Only" selection is a great main course to your sides... or when you really don't want vegetables!
Full Rack Pork Spare Ribs
$18.99
Half Rack Pork Spare Ribs
$11.49
Regular Order Pork Spare Ribs
$7.99
Full Slab Baby Back (2lbs)
$18.29
Half Chicken – White Meat Only
$7.39
Quarter Chicken – White Meat Only
$5.79
Full Pound Chopped Beef Brisket or Pork
$12.49
Half Pound Chopped Beef Brisket or Pork
$7.99
Mississippi Catfish with Hush puppies
$9.49
Sandwiches and Platters
From our table to yours
All platters served with choice of 2 ~ fries, cole slaw or baked beans NO SUBSTITUTIONS ALLOWED
Sandwiches $4.99 / Platters $6.99
Mississippi Catfish (w/Hush Puppies)
$549 / $7.49
Party Special
Everything you need for 15-20 people:
3 racks of pork spare ribs, 3 whole chickens, ½ pan of baked beans, ½ pan of cole slaw, 20 corn muffins *Must Order at least 2 hours in advance *No substitutions please
$125.99
Beverages
Cola, Diet Cola, Fruit Punch, Dr. Pepper, 7Up, Root beer
$1.99
Iced Tea Sweetened or Unsweetened; Fresh Squeezed Lemonade (No Refills)
$2.59